"No Solder" Clone Hero Conversion Kit
For Les Paul Xbox 360 guitar controllers
Convert Your Guitar for Clone Hero
The only "solderless" conversion kit.
(Okay, not completely solderless – there are three wires that need to be removed and installed – but it's easy:  Soldering Video)
Complete conversion kit.
High reliability mechanical switches for frets and strum.
Excellent performance.
Ready-to-play once installed
No software or programming for you to deal with.
Extra-long, 15 foot USB cable included.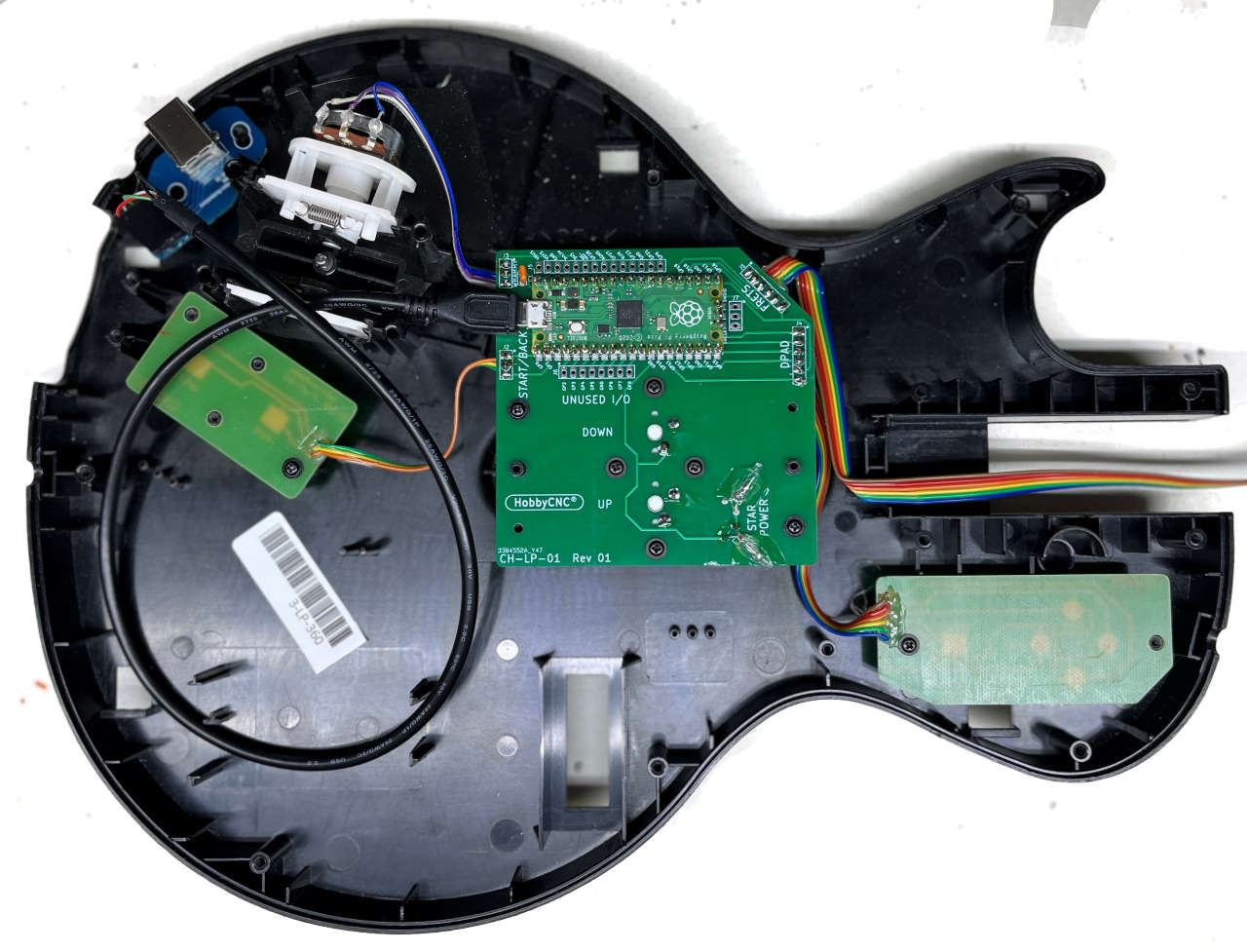 HobbyCNC Clone Hero Conversion Kit for Les Paul for Xbox, installed.
(Guitar not included)
Here's some examples where users did their own "from scratch" Clone Hero upgrades.
This approach takes a fair amount of skill and a good amount of confidence too!
If this approach appeals to you, then go for it!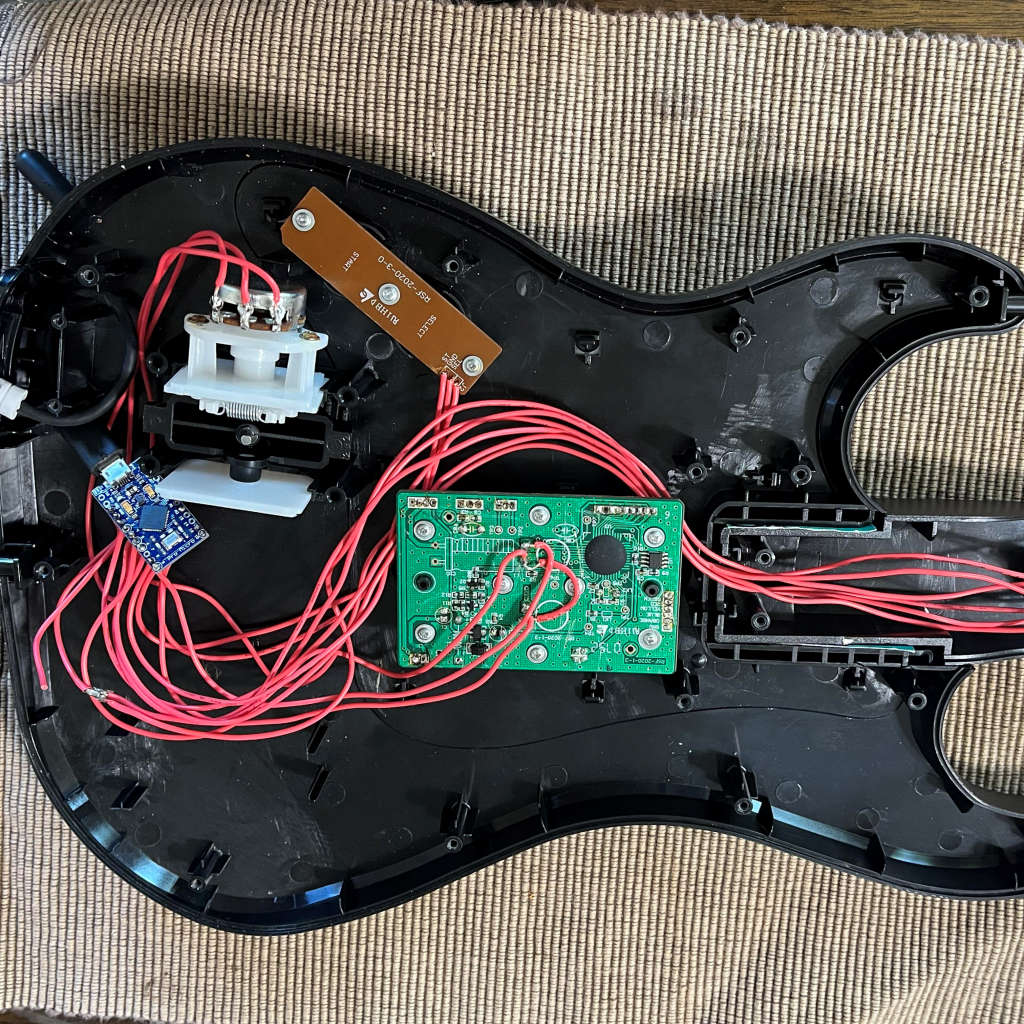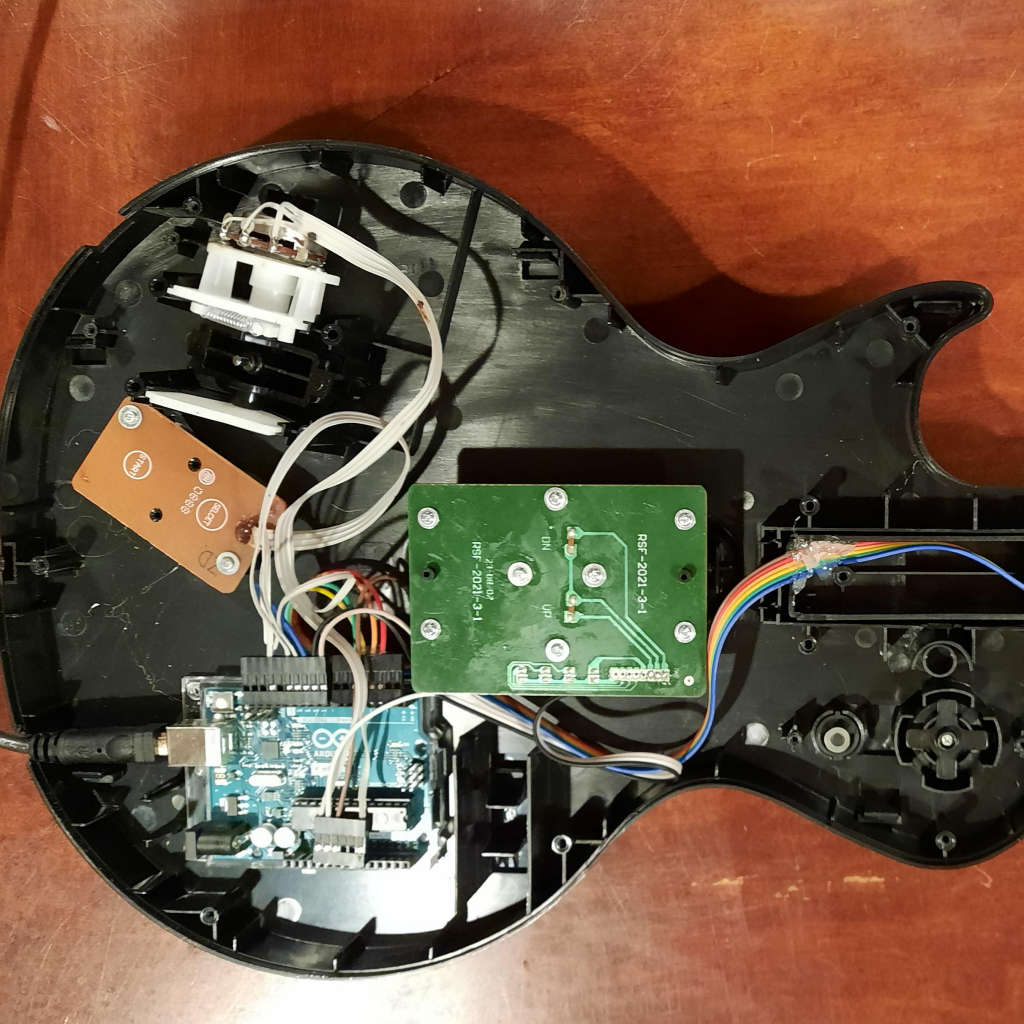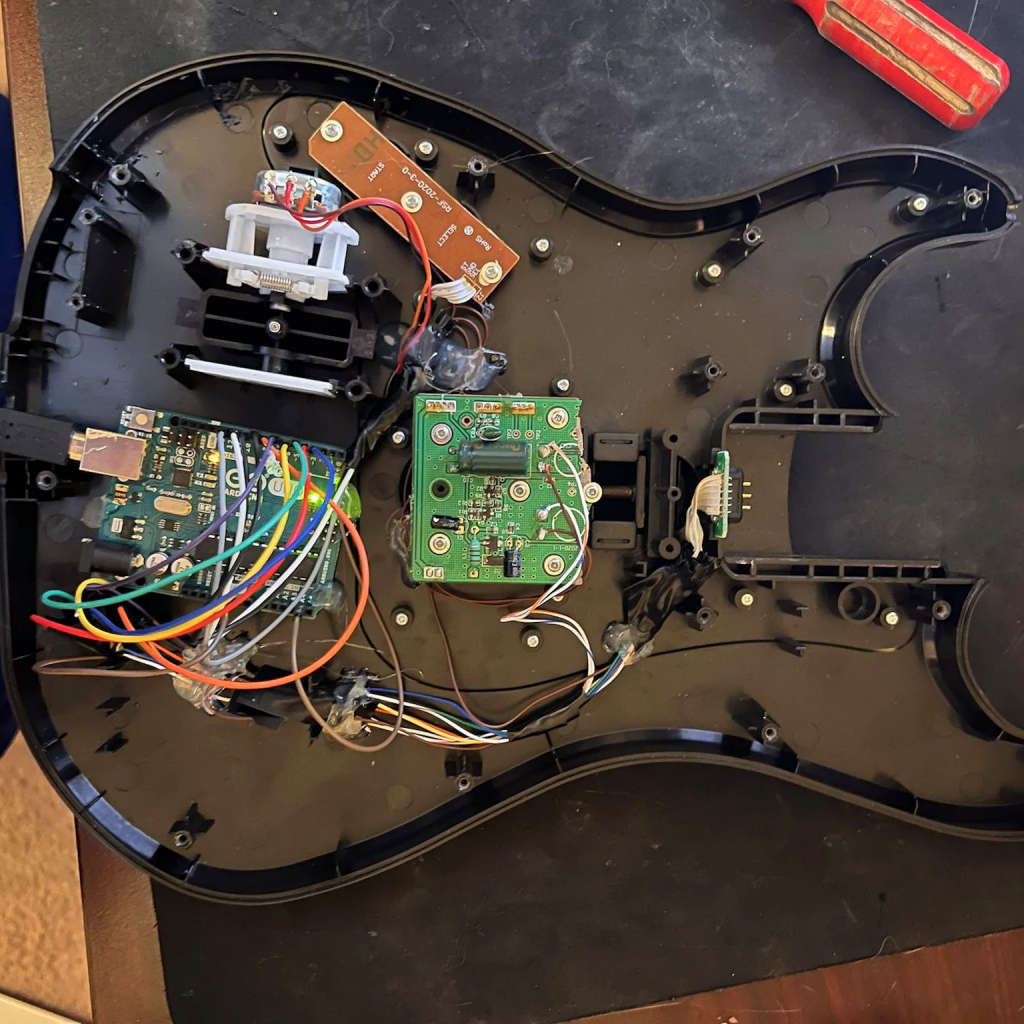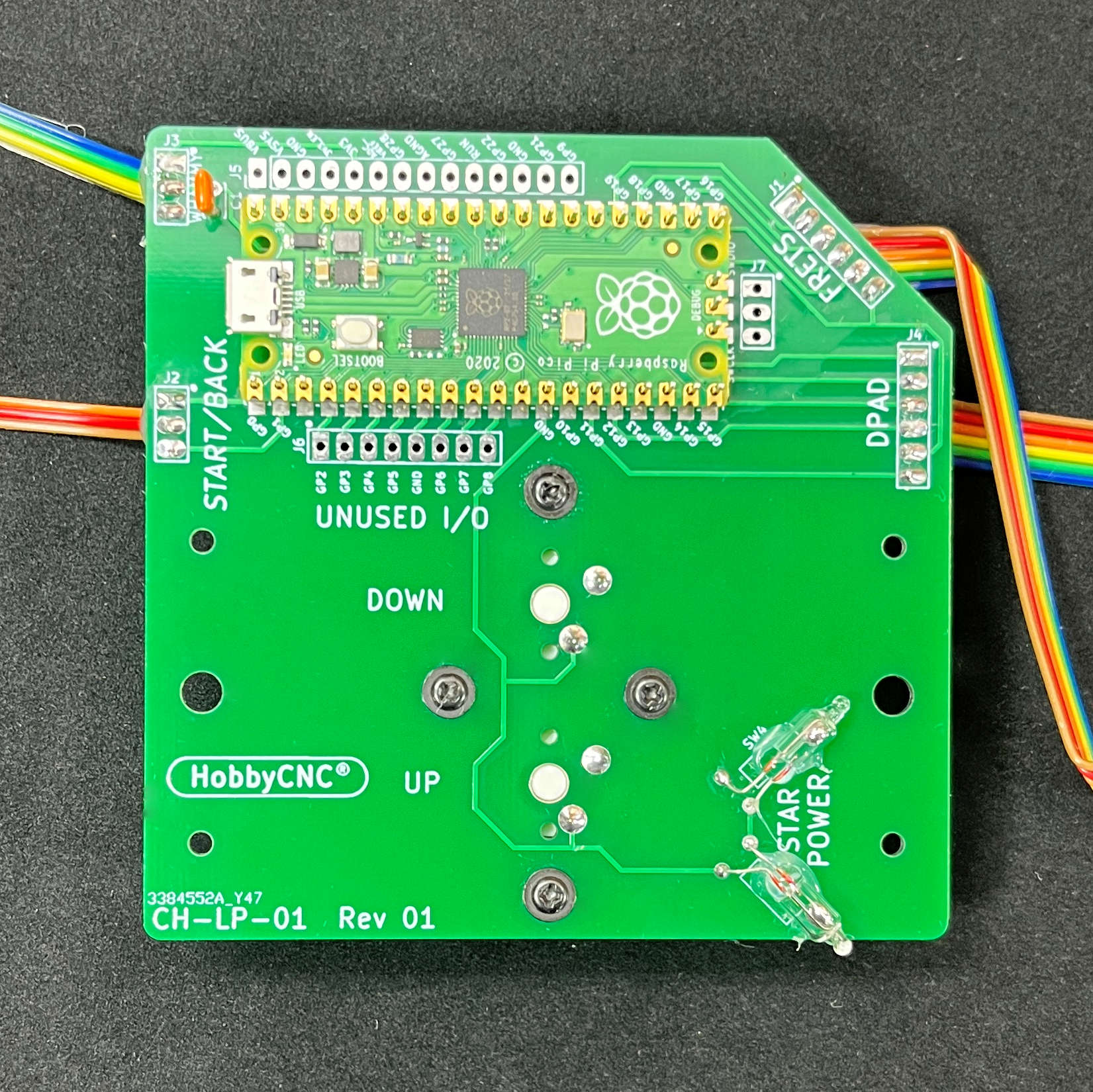 The HobbyCNC Clone Hero Conversion kit contains everything you need to easily convert your Guitar Hero Guitar to play Clone Hero on the PC.
Clear, detailed instruction manual, with lots of photos.
All components wired and assembled.
Tested.
"Drop-in" installation. (a little soldering is required)
All necessary parts provided.
Pre-programmed and configured with the
   Ardwiino Guitar Configuration Tool by sanjay900.
Reliable mercury tilt-switches for star power
    (for right and left-handed players).
Unused Pi Pico pins brought to solder pads for future hacking.
CH-LP360-1
Guitar Hero Conversion Kit
Strum board with:
     – Pre-installed, pre-programmed Raspberry Pi Pico
     – Kailh Box Navy strum switches
     – Mercury Star Power switches
Mechanical Fret board (GH-14-5)
Back/Start board
Dpad/Joystick Board
5 – 3D printed fret buttons
10 spare screws (61-0013)
USB adapter board and 15 foot USB cable
Neck Retention disk (makes neck non-removable)
T10 Torx Wrench (61-0012)
Instructions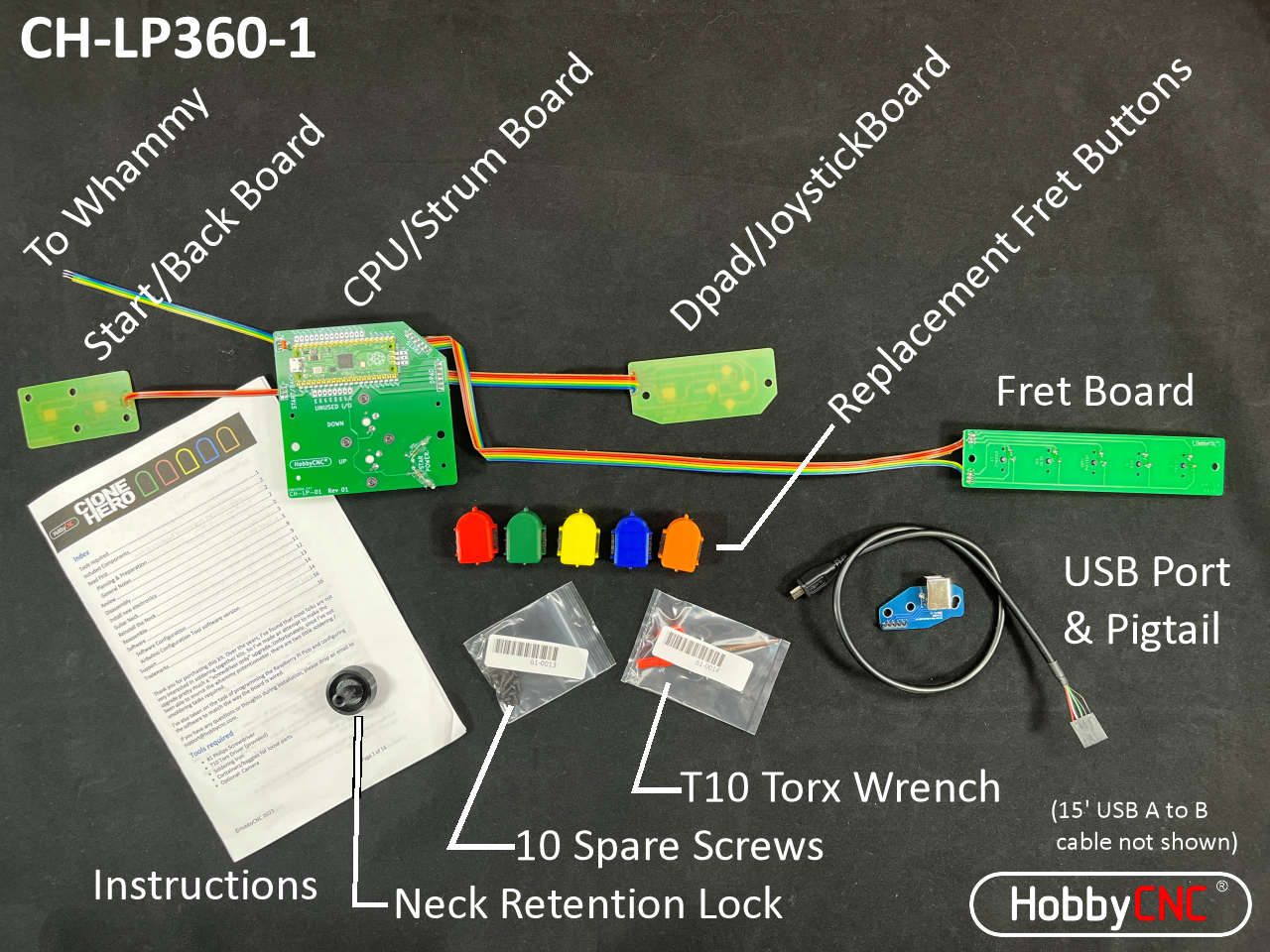 "No Solder" Clone Hero conversion for Guitar Hero Les Paul Xbox 360.
Complete kit, pre-assembled, pre-programmed and fully tested.
Runs Ardwiino software by sanjay900. All parts provided.
ONLY for guitar model #95123.805.
(there is actually a little soldering – 3 places)
Special Introductory Price!
2 in stock (can be backordered)