STL Files for 3D Printing of Fret Buttons
I've got an array of STL files for 3D printing of fret buttons. No guarantees.
Feedback please!
If you try any of these buttons, please give me some feedback via the form below.
What's included in each zip file
Each zip file contains 6 files:
4 STL files with different amounts 'removed' from the bottom of the fret
1.5_mm.STL
2_mm.STL
2.5_mm.STL
3_mm.STL
TESTER.STL
A full-height (15mm) version of the button with no side or end guides.
Intended to help you judge what fret you will need to print.
Dimensions.PDF
5 major dimensions to check prior-to and after printing.
Note 1
From: Le'pa
STL File Used: GH-BTN-LesPaul_360_V3
Feedback: Buttons for LP Xbox work surprisingly well in my WT PS2 🙂
Note 2
From: TD
STL File Used: GH-BTN-LesPaul_360_V2
Feedback: I printed the 360 LP V2 frets for the 360 GH5 guitar and they actually fit perfectly.
Note 3
From: BrianV
I'm pretty sure the Wii World Tour uses the same frets as the Wii Les Paul.
Printing Tips
Turns out (no surprise) there are many different dimensions and designs for fret buttons. Here's some tips for printing or checking a design before you print.
Check Dimensions
For each design, I've provided a few key dimensions for you to check against your fret buttons AND to ensure your printed buttons came out the right size.
3D printers are not magically accurate – they need to be calibrated.
In the images to the right, you can see the dimensions I got from my 3D printer. I scaled the axis up by the calculated amount, reprinted, and had very, very close results.
Also, the X, Y and Z will likely require different calibration numbers. In the images to the right, my Z axis was good at 12.02 mm. X and Y notsomuch.
Feedback
I appreciate feedback on what prints worked and what prints didn't. Please, before you post comments/feedback:
Check the dimensions of your OEM fret button to the drawing
Check the dimensions of your 3D print to the drawing
Indicate the 3D file you used for the print
Describe what worked/didn't work (photos are always nice)
You can post feedback below (bottom of the page) or to [email protected]
Your STL files
If you have an STL file that you have used successfully, let me know, I can post it as your STL or include a link to a file that exists elsewhere (like Thingiverse)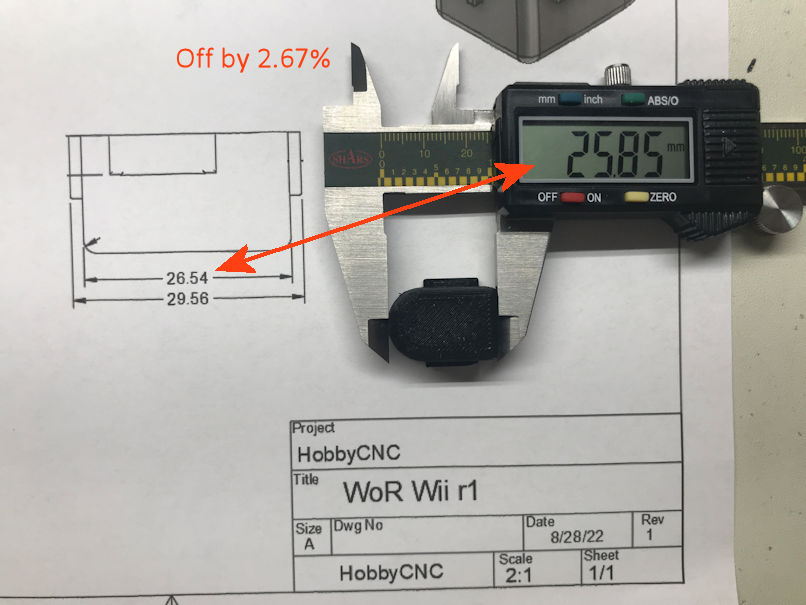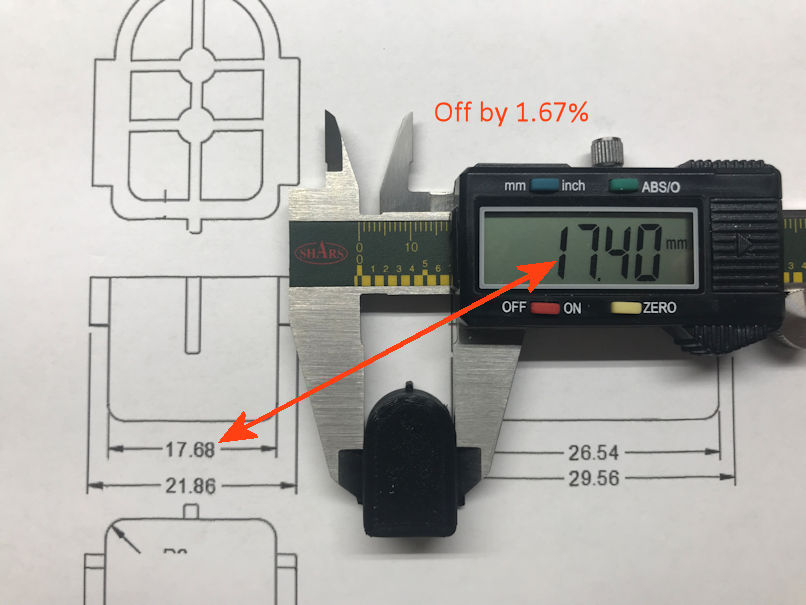 If you want to send images, please forward them via email to support @ hobbycnc . com.