HobbyCNC DIY CNC Router Plans make a great starting point for building an inexpensive 3-Axis CNC router from readily available parts. No fancy drive components or materials.
Watch this machine in action!  Milling PRO heatsinks
Current Revision: 02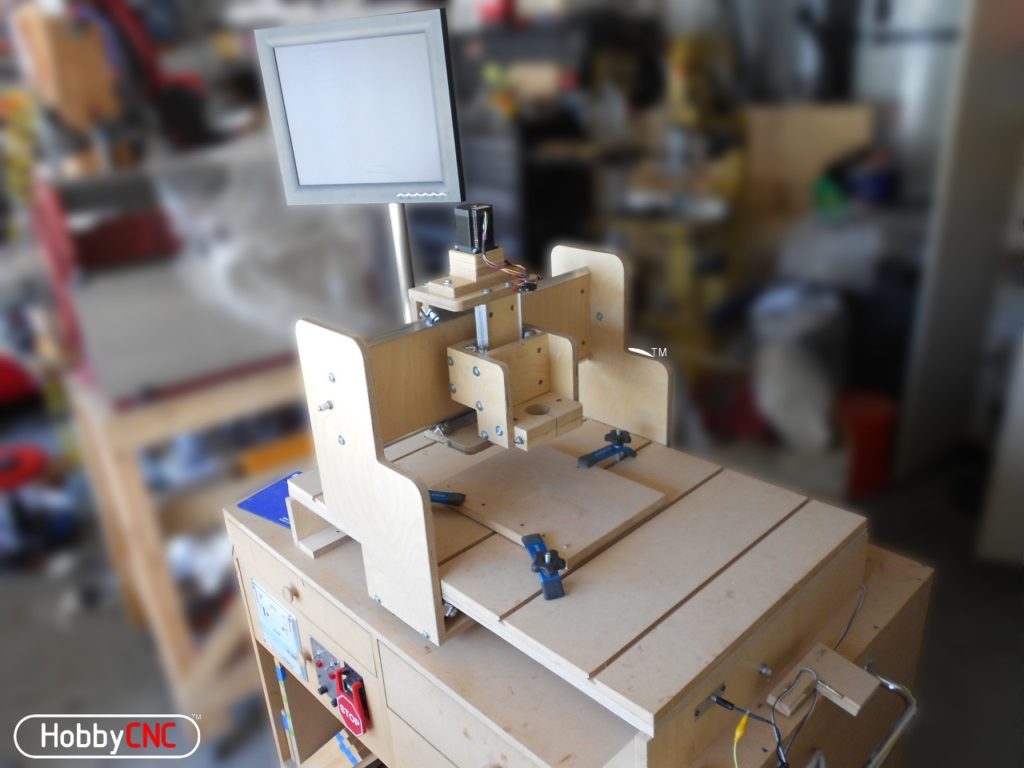 Digital (PDF) download.
The DIY CNC Router Plans contain these sections:
Material Selection
The Base
The Cross-Dowel Jig
The drive nut and anti-backlash device
Linear Bearings
The X-Axis
The Y-Axis
The Z-Axis
Stepper Motor Mounting
Electronics
Limit Switches
Stepper Motor Wiring
Cable Management
Wiring the electronics
Your purchase will entitle you to download all future revisions of these plans as they become available.  Select Downloads from your Account page
For questions, comments, requests or suggestions, use the HobbyCNC DIY CNC Router Plans Forum  (login required).
I have scoured the net for many DIY designs and found many are over-complicated or not well thought-out; 2 aspects that your design does not suffer from.

 – Warrick H
This is an excellent piece of work. Very high quality document. Really nice design. Thank YOU!
– Dave B
Rev02 updates:
LOTS of improved mechanical drawings with improved dimensions and readability
Parts list added for Stepper Motor Mounting section
Part number for anti-backlash spring
Misc text edits and additions
Rev01 updates:
Improve quality of Figure 40 – Y-Axis Cutting Guide.  Add more dimensions.
Add Y-Axis bill-of-materials.
Fixed odd location of Figure 45 – Example of motor mounting to the Z-Axis carriage.
Improve Figure 23 – Drive nut and anti-backlash assembly
Added sections:

My Machine in Action
Discussion Forum
Limit Switches
Shimming the linear bearings
Stepper Motor Wiring

DIY CNC Wood Router by HobbyCNC is licensed under a Creative Commons Attribution-NonCommercial 4.0 International License.